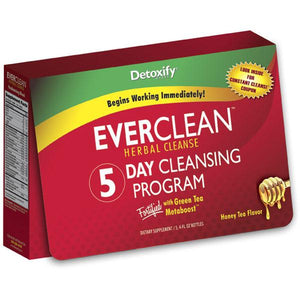 The absolute best 5-day detoxifying product that we offer is Ever Clean. This product is intended for those with low to moderate toxicity, seeking a longer-term cleansing solution that addresses all 4 Factors of Full System Cleansing. Ever Clean is fortified with Meta-Boost, and includes five 4oz shooter bottles.
Ever Clean is recommended as part of a lifestyle change, and should be used over the course of 5 consecutive days. For optimal cleansing benefits, we recommend that you follow up Ever Clean with Detoxify Constant Cleanse on an ongoing basis.
For each of the first (4) days prior to your Final Intensive Cleansing day:
Shake a bottle of PRECLEANSE BLEND and drink it followed by (1) 16 oz. glass of water.

Throughout the day drink (5) 16 oz. glasses of water.
It is best not to drink the water all at once, but sip on the glasses all day long. You can drink more water if desired, but don't overdo it.